PFA Run Tee (Space saving at one end) - RTS1A
Features:
it is specially used in high-purity semiconductor industry, and also suitable for ultra pure water or corrosive chemicals. It can maintain good dimensional stability and corrosion resistance between - 40 ℃ and 200 ℃, and has good mechanical characteristics and wear resistance.
Material: PFA
Interface type: flared connection
Maximum operating temperature: 200 ℃
Maximum service pressure: 0.7MPa
Applicable medium: liquid
*Nuts are available in PFA and PVDF.
*PVDF is not suitable for applications exceeding 120℃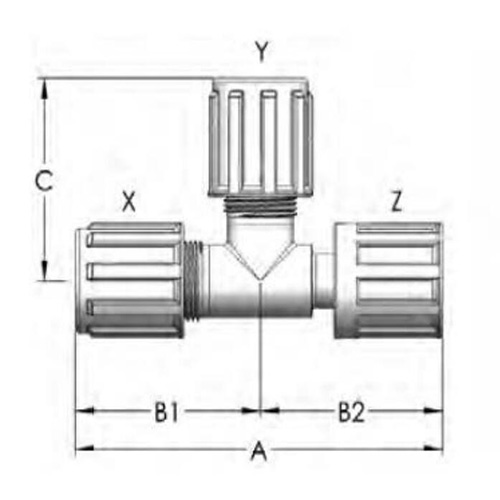 Part No.

X

Y

Z (Space Saving)

Orifice

A

B1

B2

C

(inch)

(inch)

(inch)

(mm)

(mm)

(mm)

(mm)

(mm)

RTS1A040404S1

1/4"

1/4"

1/4"

3.81mm

83.82mm

42.16mm

41.66mm

42.16mm

RTS1A040808S1

1/4"

1/2"

1/2"

3.81mm

88.90mm

42.16mm

46.74mm

47.50mm

RTS1A060406S1

3/8"

1/4"

3/8"

3.81mm

88.65mm

44.70mm

43.94mm

42.16mm

RTS1A060606S1

3/8"

3/8"

3/8"

6.35mm

88.65mm

44.70mm

43.94mm

44.70mm

RTS1A060608S1

3/8"

3/8"

1/2"

6.35mm

91.44mm

44.70mm

46.74mm

44.70mm

RTS1A060808S1

3/8"

1/2"

1/2"

6.35mm

91.44mm

44.70mm

46.74mm

47.50mm

RTS1A061212S1

3/8"

3/4"

3/4"

6.35mm

98.81mm

44.70mm

54.10mm

56.39mm

RTS1A080408S1

1/2"

1/4"

1/2"

3.81mm

94.23mm

47.50mm

46.74mm

42.16mm

RTS1A080606S1

1/2"

3/8"

3/8"

6.35mm

91.44mm

47.50mm

43.94mm

44.70mm

RTS1A080608S1

1/2"

3/8"

1/2"

6.35mm

94.23mm

47.50mm

46.74mm

44.70mm

RTS1A080806S1

1/2"

1/2"

3/8"

6.35mm

91.44mm

47.50mm

43.94mm

47.50mm

RTS1A080808S1

1/2"

1/2"

1/2"

9.65mm

94.23mm

47.50mm

43.94mm

47.50mm

RTS1A080812S1

1/2"

1/2"

3/4"

9.65mm

101.60mm

47.50mm

54.10mm

47.50mm

RTS1A120412S1

3/4"

1/4"

3/4"

3.81mm

110.49mm

56.39mm

54.10mm

42.16mm

RTS1A120612S1

3/4"

3/8"

3/4"

6.35mm

110.49mm

56.39mm

54.10mm

44.70mm

RTS1A120812S1

3/4"

1/2"

3/4"

9.65mm

110.49mm

56.39mm

54.10mm

47.50mm

RTS1A121208S1

3/4"

3/4"

1/2"

9.65mm

103.12mm

56.39mm

46.74mm

56.39mm

RTS1A121212S1

3/4"

3/4"

3/4"

16.00mm

110.49mm

56.39mm

54.10mm

56.39mm

RTS1A160416S1

1"

1/4"

1"

16.00mm

138.18mm

68.58mm

69.60mm

51.31mm

RTS1A160616S1

1"

3/8"

1"

6.35mm

138.18mm

68.58mm

69.60mm

54.10mm

RTS1A160816S1

1"

1/2"

1"

9.65mm

138.18mm

68.58mm

69.60mm

57.40mm

RTS1A161216S1

1"

3/4"

1"

16.00mm

138.18mm

68.58mm

69.60mm

56.39mm

RTS1A161612S1

1"

1"

3/4"

16.00mm

125.48mm

68.58mm

69.60mm

68.58mm

RTS1A161616S1

1"

1"

1"

22.35mm

138.18mm

68.58mm

69.60mm

68.58mm