PTFE Check Valve - TCV
Application:
It is specially used in the high purity semiconductor industry, and also suitable for ultra pure water or corrosive chemicals.
Features:
1. High purity and corrosion resistance. By machining PTFE components, no metal material, excellent chemical resistance and purity.
2. Special sealing design, no O-ring is required for sealing.
3. The machined PTFE spring has low opening pressure and can be resealed with minimum back pressure.
4. The product is pasted with obvious arrows to indicate the flow direction.
Material: PTFE body and internal components, PFA nut
Interface type: flared connection
Opening pressure: 0.017-0.052Bar
Back pressure/sealing pressure: 0.35Bar
Note: 1 "and above Tube OD can be customized.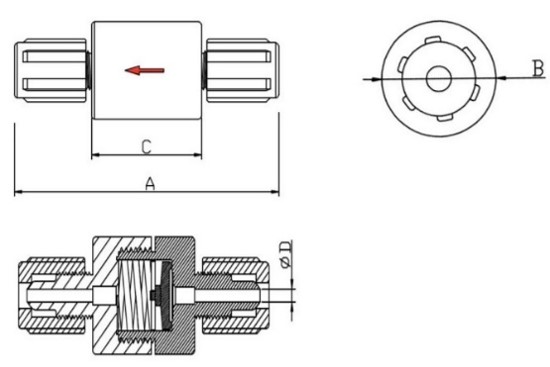 Part No.

Tube OD

Material

A

B

C

D

( mm )

( mm )

( mm )

( mm )

TCV0041

1/4"

PTFE+PFA

94

31

39

3.4

TCV0061

3/8"

PTFE+PFA

99

34

39

6.4

TCV0081

1/2"

PTFE+PFA

108

38

45

9.5

TCV0121

3/4"

PTFE+PFA

112

54

45

15.9

TCV0161

1"

PTFE+PFA

141

70

55

22